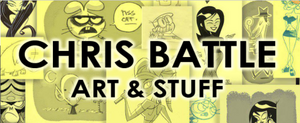 Chris Battle is the character designer of the characters on Dan Vs.
Chris has designed character for animated series as far back as 1993. A former Klasky Csupo employee, Battle designed backgrounds for Duckman and characters for Aaahh!!! Real Monsters.
Battle then worked as a character designer for Cartoon Network's series Dexter's Laboratory and The Powerpuff Girls.
He also did character designs for Xiaolin Showdown, El Tigre: The Adventures of Manny Rivera, The Mighty B!, Rob Zombie's The Haunted World of El Superbeasto, and Kick Buttowski: Suburban Daredevil
External sources
Edit
Ad blocker interference detected!
Wikia is a free-to-use site that makes money from advertising. We have a modified experience for viewers using ad blockers

Wikia is not accessible if you've made further modifications. Remove the custom ad blocker rule(s) and the page will load as expected.