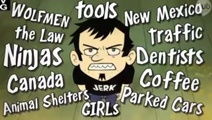 "I'll put you on the list! I'll put you all on the list!"
-Dan
This page consists of all the things that Dan has on his revenge list that have been seen in the show that he wishes to get revenge on.
The List (so far)
Edit
THE HAWAIIAN MONARCHY
TED
THE DEEP BLUE SEA
THE ELDERLY
PATCHY BEARDS
CARI CATURISTS
WILLIAM SHATNER
MARYLAND
Dan's thumb )RS  -unable to read text-
Dan's thumb  )GTS who RUN STOP SIGNS
Dan's thumb  )? CHILDREN
HANGIN' ELI'S DAIRY FERM
BEEF HOTDOGS
ARIZONA
Dust
People who bring babies to the park
Pencils that are too sharp
Mike (Removed; after death)
Monocle Manufacturing Corporation
Marin County Sheriff Office
Talking Parrot at the Mall
Motorists Who Run Stop Signs
Whatever's Causing That Rash
People Who Take Cats For Walks
Whoever Planted That Catcus
Elise (though got erased after he saw her brutally beating up Chris' ex boss)
Milk
Demons
Moms
Canada
---
Sources
Ad blocker interference detected!
Wikia is a free-to-use site that makes money from advertising. We have a modified experience for viewers using ad blockers

Wikia is not accessible if you've made further modifications. Remove the custom ad blocker rule(s) and the page will load as expected.