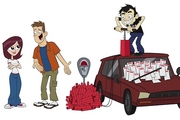 Despite what many people believe (including
Dan
), Dan does care about other things aside from himself.
Mr. Mumbles
is one thing, but the other thing is his car. In spite of the fact that is in terrible shape Dan still treats it well.
Dan's car has been the catalyst for many episode plots.
Often disrespected, Dan's red hatchback vehicle gets Dan to where he needs to go when it is not being maimed or defaced.
In a few episodes his car was, damaged, messed up, and dented.
According to both Dan and Mechanic Mike, it's an off-brand Filipino model. And that the closest dealership is in Manila and "closed down 12 years ago."
Ad blocker interference detected!
Wikia is a free-to-use site that makes money from advertising. We have a modified experience for viewers using ad blockers

Wikia is not accessible if you've made further modifications. Remove the custom ad blocker rule(s) and the page will load as expected.