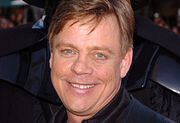 A long time ago in a galaxy far away...
Mark Hamill
was Luke Skywalker. But if you still don't know who he is, you need to get your head examined!
Pretty much after Star Wars, Hamill's career as an actor was sorta over. (See The Guyver if you don't believe me). However, a new , more awesome and sinister Mark Hamill was forged. Especially when he landed the voice of The Joker in Batman: The Animated Series. Jeff Bennett and Kevin Michael Richardson also put themselves in the shoes of the Clown Prince, but no one can land the role like Hamill.
Hamill played Fire Lord Ozai along with Grey DeLisle in Avatar: The Last Airbender (2005).
On Dan Vs., Hamill is Dr. Pullem, Dan's supervillan Dr. Pullem from Dan Vs. The Dentist and The Mall Santa.
Ad blocker interference detected!
Wikia is a free-to-use site that makes money from advertising. We have a modified experience for viewers using ad blockers

Wikia is not accessible if you've made further modifications. Remove the custom ad blocker rule(s) and the page will load as expected.