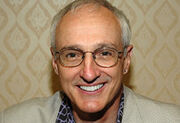 Michael Gross
(born June 21, 1947 in Chicago, Illinois) is best known for his role as
Family Ties
father figure Steven Keaton along with co-stars
Meredith Baxter
who played his wife Elyse and Michael J. Fox who plays his son Alex.
If family sitcoms aren't your fancy, perhaps you know him from the 1990 cult horror, sci-fi comedy Tremors (1990) as survivalist and Atlanta Hawks fan Burt Gummers.
Gross is probably one of television's most well recognized actors.
Ad blocker interference detected!
Wikia is a free-to-use site that makes money from advertising. We have a modified experience for viewers using ad blockers

Wikia is not accessible if you've made further modifications. Remove the custom ad blocker rule(s) and the page will load as expected.