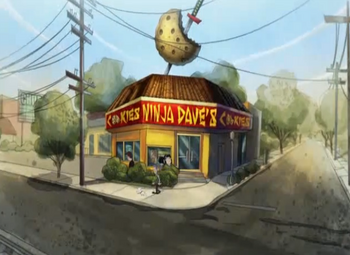 Ninja Dave's Cookies (or simply Ninja Dave's) is a cookie shop run and owned by the former Ninja, Dave.
When not at Burgerphile, Dan enjoys coming here to meet girls, take his friends out after a victory, and come up with new plans of vengence.
Employees
Edit
So far we have only seen Dave working.
As soon as it opened it became quite successful and popular.
It appears Dave uses not only traditional recipes, but also specialized ones so people such as Dan (whom is lactose intolerant, and therefore cannot consume anything containing butter and/or normal milk) can enjoy his cookies, too.
Dan has stated that Dave's cookies taste "Just as good as the ones with butter."
The shop appears to be open 24 hrs. As it was open at 2 in the morning in The Monster Under the Bed.
Ad blocker interference detected!
Wikia is a free-to-use site that makes money from advertising. We have a modified experience for viewers using ad blockers

Wikia is not accessible if you've made further modifications. Remove the custom ad blocker rule(s) and the page will load as expected.