The DMV
Season 3, Episode 7
Air date
January 26, 2013
Written by
Chris Pearson
Directed by
Ashley Lenz
Episode guide
Previous
The Common Cold
Next
The Ski Trip
"The DMV" is the seventh episode of the 3rd season and the forty-seventh episode overall.
It originally aired on January 26, 2013.
Overview
Edit
When Dan is categorized as a difficult case for a routine traffic issue, he must use all his wits and driving skills to renew his license.
Coming soon!
Dan and Chris camped out at the DMV to be first in line.
While camping out, Dan made Chris sit out on guard with a crossbow on the off chance that they would be attacked by coyotes.
Chris shot at someone he thought looked like a coyote, but it was just a paperboy.
Lloyd was Employee of the Month at the DMV.
Elise has Dan bugged, this is how she's able to hear what Dan and Chris are doing.
There's a labyrinth under the DMV, it's for their problem cases according to Lloyd.
On Dan's license, his height is marked as 5'6", but when viewing his mugshot, some of his hair reaches that height. His scalp reaches 5'3".
According to Dan's mugshot, he was arrested in Burbank, CA on March 17, 2012. Chris kept this mugshot because he thought Dan looked so adorable in it.
Characters
Edit
The first promo is a clip posted on The Hub's YouTube channel on January 22, 2013.
The second promo is another clip also posted on The Hub's YouTube channel on January 22, 2013.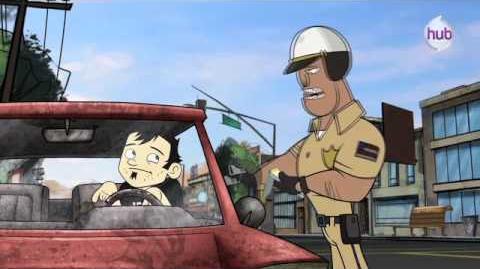 Ad blocker interference detected!
Wikia is a free-to-use site that makes money from advertising. We have a modified experience for viewers using ad blockers

Wikia is not accessible if you've made further modifications. Remove the custom ad blocker rule(s) and the page will load as expected.