The Lemonade Stand Gang
Season 1, Episode 22
Air date
July 9, 2011
Written by
Dan Mandel, Chris Pearson
Directed by
Brian Sheesley
Episode guide
Previous
"The Magician"
Next
"The Family Thanksgiving"
"The Lemonade Stand Gang" is the twenty-second and final episode of the 1st season and the twenty-second episode overall.
It originally aired on July 9, 2011.
Dan and Chris set out to stop a group of underage ruffians who have begun extorting money from local residents through a neighborhood lemonade stand.
Coming Soon!
Dan quotes The Princess Bride when he says "inconceivable!"
The Lemonade Stand Gang hates being called "hooligans".
Elise is concerned about Chris being beat up until she learns he was beat up by children. 
Timmy reads "The New Adventures of Population Control Johnny" and "Effective Business Strategies for Successful Pre Teens".
Dan, Chris and Elise visit Ninja Dave's Cookies in this episode.
The Wolf-Man (in human form) is seen taking Dolores home, so it's possible that Dolores is actually his daughter.
The Animal Shelter from it's respective episode is seen in this episode, but this can't be possible since it was destroyed by Dan and replaced with a firing range.
Characters
Edit
Coming Soon!
The first and only trailer was released on The Hub's YouTube channel on July 7, 2011.
"This week, Dan is mounting a crusade against a group of local delinquents in "Dan Vs. The Lemonade Stand Gang." Premieres Saturday at 8 PM ET/5 PM PT!" - description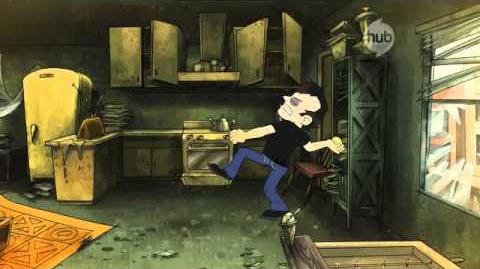 Ad blocker interference detected!
Wikia is a free-to-use site that makes money from advertising. We have a modified experience for viewers using ad blockers

Wikia is not accessible if you've made further modifications. Remove the custom ad blocker rule(s) and the page will load as expected.