Vegetables
Season 3, Episode 10
Air date
February 16, 2013
Written by
Chris Pearson
Directed by
Ashley Lenz
Episode guide
Previous
Jury Duty
Next
The Superhero
"Vegetables" is the tenth episode of the 3rd season and the fiftieth episode overall.
It originally aired on February 16, 2013.
Overview
Edit
When Burgerphile removes french fries from the menu and replaces them with vegetables, Dan sets out to get rid of the green menace.
Coming soon!
It's ironic that Burgerphile wants to be more healthy considering it's a fast food restaurant.
Dan used Elise's ID to gain access to a military grade defoliant, so either Dan knows Elise was lying about being a fishermen in The Ski Trip, or he was too caught up in his revenge scheme to care.
The event's of this episode take place at least during 1 week, because Spy Boss said to Elise "But we do wonder why you've spent the last week systematically destroying the entire vegetable supply"
Characters
Edit
The first promo was a clip uploaded on The Hub's YouTube channel on February 15, 2013.
"In the February 16 (4:30pm ET) episode "The Vegetables," when Burgerphile removes French fries from their menu in favor of vegetables, Dan sees red and sets out to rid the city of the healthy green menace!'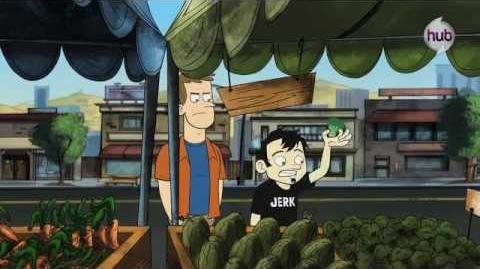 Ad blocker interference detected!
Wikia is a free-to-use site that makes money from advertising. We have a modified experience for viewers using ad blockers

Wikia is not accessible if you've made further modifications. Remove the custom ad blocker rule(s) and the page will load as expected.